Friday, July 22nd, 2016 at10:13 am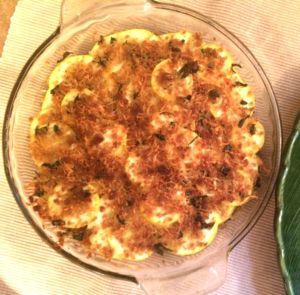 This is an easy and delicious side dish based on this recipe from Cooking Light Magazine.
Ingredients:
1-2 yellow squash or zucchini, cut into thin slices–a mandolin slicer would be useful for slicing the squash.
1/2 onion, chopped
1 clove garlic, chopped
1/4 cup of white wine
1/2 cup breadcrumbs (to make your own, place 1-2 slices of bread in a food processor)
1/4 cup grated parmesan cheese
fresh herbs to taste–chopped
salt and pepper
Directions:
Heat oven to 450 degrees (don't worry-the gratin doesn't' need to bake too long so hopefully this won't make your kitchen get too hot).
Heat a little olive oil in a skillet over medium heat. Saute the onions until soft and translucent, add garlic, saute for another minute or so. Add salt and pepper as you go. Add white wine and cook, stirring, for 1-2 minutes.
Place onion mixture in an oven-proof shallow 2-quart baking dish. Layer the squash or zucchini on top of the onions.
Mix the breadcrumbs with parmesan cheese, herbs, 1 tbs olive oil, and a little salt and pepper. Spread on top of the squash. Bake for 15 minutes. Then, without removing the dish from the oven, turn on the broiler and broil for 2-3 minutes, or until breadcrumbs are lightly browned.
Enjoy!